You have to watch the best sci-fi heist movie of the 2010s online for free ASAP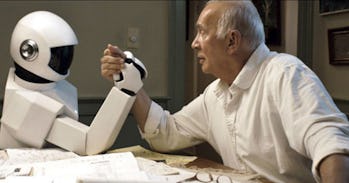 There aren't many science fiction movies like this one. The genre tends to look to the future, and that usually means shocking images dystopias, and young people take bold, exciting risks. When older people get into sci-fi, the question may become how to get younger again, like the 80s classic Cocoon or Star Trek: Insurrection
Robot and Frank is a sci-fi film that looks at aging as it is, and how technology could change our lives in ways smaller than most films, but posing just as pressing questions.
Despite the film's title, Frank Langella's Frank Weld gets top billing in this 2012 movie. Frank is old, and he's getting older. He owns a large house in New York State. He's been divorced for decades, and although his two grown children love him, they have their own lives to focus on. His memory falls short, the house becomes a mess. So his son Hunter (James Marsden) buys him a helper robot.
Based on the Honda ASIMO Robot and Frank takes a predominantly old-fashioned approach to his visuals with practical effects. A sterile kind of cute, Robot's design was created by artists associated with Daft Punk. In real life, actress Rachael Ma stepped into the heavy suit and gave life to the robot. In a Interview from 2013, she described the difficulties in portraying Robot:
"The heat, lack of visibility and immobility of the parts made it difficult to bring the robot to life."
"The robot is completely encapsulated in two layers: the first layer is a thick, rubber unitard that covers everything from head to toe, and then a delicate, fiberglass shell of body parts, including a non-ventilated helmet lined with mesh and foam. , no air conditioning, no fans. Just sweat. And wow, it was hot! We shot outside 12 hours a day, during a heat wave in the summer for 5 weeks. I was constantly dehydrated, nauseated and passed out. "
But Ma, and her vocal partner Peter Sarsgaard, absolutely succeed. Robot is funny and friendly, and when the audience learns that Frank is actually an ex-thief and is recruiting a robot for a robbery, it's hard not to root for the duo.
The heist is decidedly low-stakes, but with sweet purpose. Frank wants to rob the local library, which is currently being 'revived' by evil future hipsterSuccession Jeremy StrongHe wants to do this to impress the town's librarian, Jennifer by Susan SarandonAlthough the robbery goes well, it turns out that not everything is as it seems in the small town, with Frank's memory deteriorating.
Robot and Frank is a sweet, funny film about a real problem. Experts estimate that by the year 2050 27 million Americans needs some form of long-term care or assistance. That is an underexposed problem Robot and Frank acts brilliantly.
It's a relatively small stakes movie – can an older man maintain his independence? But science fiction doesn't make the stakes feel so small. They feel more recognizable. Anyone who has had to take care of an older family member is likely to resonate with parts of it Robot and FrankIf only they had a robot to help.
Robot and Frank streams for free on YouTube in the US.