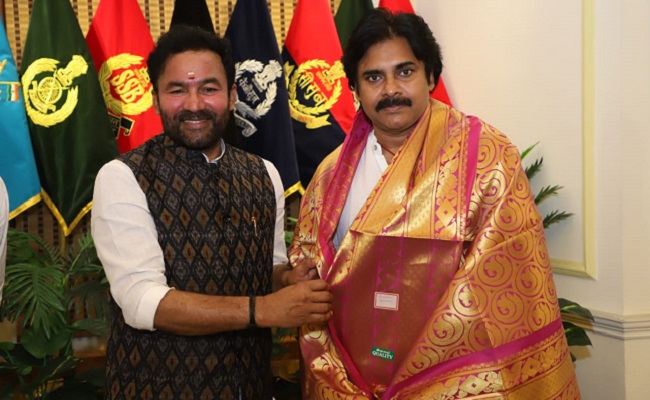 There is a saying in Telugu: "Nela vidichi saamu cheya koodadu" (one should not do exercises that leave the ground). It means that a person should not ignore reality on the ground and do superficial exercises on any topic.
This fits perfectly with the style of functioning of Jana Sena Party chef and powerstar Pawan Kalyan.
At a time when the fighting is raging in the villages in the form of local elections, Pawan Kalyan is touring Delhi to meet and perform with the bosses of the Bharatiya Janata party.
All said and done, Jana Sena's head has to learn from Telugu Desam Party president and former Andhra Pradesh Chief Minister N Chandrababu Naidu.
Despite growing old and suffering a humiliating defeat in the last election, Naidu has not given up his fight.
Even at the age of 71, the TDP chief is in a tough fight even in the Gram panchayat elections, despite knowing that the ruling party will always have an advantage in these elections.
He tours places, addresses press conferences, goes to courts and meets with election authorities, regardless of whether his party wins or loses elections. Fighting regardless of the outcome is the true quality of a true leader.
But what does Pawan Kalyan do? Nothing. His party is nowhere to be seen in the Gram panchayat elections and even his friendly party BJP has barely fought.
Other than making statements, BJP leaders led by Somu Veerraju have made no attempt to compete in the local polls.
And Pawan Kalyan has gone to Delhi with Nadendra Manohar to meet Amit Shah and others. What will he win?
Even if Jana Sena gets the chance to take part in the by-elections for the Tirupati parliamentary seat, Pawan cannot achieve much as he has lost connection with the people.
It's time for Pawan to take the field, connect with the people, talk about their problems and fight in every election, regardless of the outcome. Otherwise, he and his party will remain on paper only.
Click here for the latest Direct-to-OTT releases (list of daily updates)