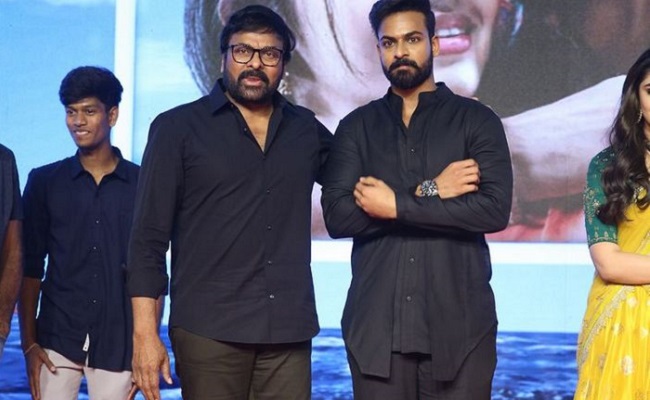 Megastar Chiranjeevi graced Uppena's pre-release feature to bless his cousin Vaishnav Tej and also the entire cast and crew of the film.
He started his speech and thanked the Telugu audience for showing their love again after the theaters reopened.
He jokingly said he could leak the whole story if he talks about the movie.
"Producers, don't worry, I won't tell you anything about the film. Buchi Babu came to tell me the story together with Sukku and I was really amazed. The emotions were pure. I really couldn't find anything wrong. However, I was concerned about how a crucial point in the movie will be convincingly told. He could deliver what he promised. I thought about having a press conference after hearing the story. It is no exaggeration to say that this is a visual extravaganza. This film is indeed an example for writing scripts perfectly. Buchi Babu's making style reminded me of Bharathi Raja in the 80s and 90s. He used to make such rustic films.
Vijay Sethupathi is a wonderful person. He is very humble and dedicated. He is a versatile actor from India. He did not stick to lead roles. In fact, his acceptance is the first step to the success of the movie. He took the movie to the next level.
Krithi Shetty was exceptional. I found out that she has already signed 2 to 3 movies. She will soon become a superstar.
Vaishnav Tej is a pride to our family. He excelled in the role. Vaishnav had a small role in Johnny and then a major role in Shankar Dada MBBS. He played the role of a chair-bound child. With all your blessings he became a hero. I told him he is blessed with such a story, director and producers. Vaishnav, I hope you will have the blessings of God.
Mythri Movie Makers became the number one production in a very short time. Every hero likes them and that's the secret to their success. They make movies with all star heroes. They even do a movie with me under the direction of Bobby. I hope my movie with Bobby will entertain you all.
This will be another Rangasthalam for Mythri Movie Makers. There is no doubt that Uppena is going to make history. This is going to be an epic. "
Click here for the latest Direct-to-OTT releases (list of daily updates)