Top Cong Leaders To Boycott Revanth Reddy Gathering?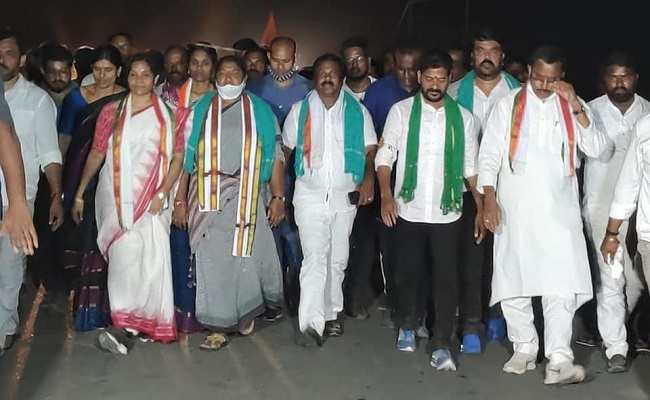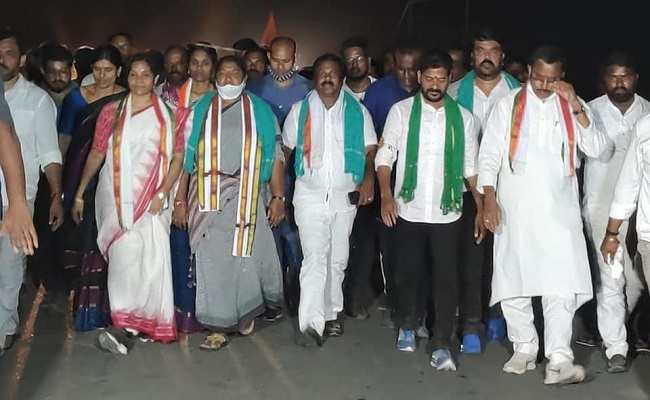 The continued padayatra of the Telangana Pradesh Congress Committee work chair and Malkajgiri MP A Revanth Reddy appears to have caused a vertical split in the party.
Senior Congress leaders are angry with Revanth Reddy for suddenly taking over Padayatra without even discussing the plan with the party leaders. Notably, PCC president N Uttam Kumar Reddy, who met with a number of seniors, reportedly expressed displeasure with Revanth's decision.
He reportedly told all party seniors not to attend Revanth's rally in Raviryala to mark the completion of his padayatra on Tuesday.
He told them that Revanth Padayatra did not approve of the High Command; and so it is better that they all stay away from the closing meeting.
However, Revanth Reddy's group claims that the High Command had made it clear that the party leaders could start any program to revive the party.
However, seniors say the high command had asked the leaders to include programs in their respective constituencies.
How can Revanth Reddy include padayatra in Nagarkurnool and Mahabubnagar parliamentary constituencies instead of Malkajgiri? This is nothing more than insulting the leaders of these constituencies, "said one senior.
It has been learned that the party seniors are pressuring the AICC responsible for Telangana affairs Manickam Tagore not to attend Revanth's meeting on Tuesday.
Click here for the latest Direct-to-OTT releases (list of daily updates)