So you have a new laptop and you are now wondering how to transfer files from your old to the new one. Or you need to transfer your work from the office computers to your personal laptop so that you can finish your work from home. In this article, we will share the 7 best ways to transfer files between two computers.
Some of these methods require an active internet connection, while they can be run offline – the choice depends on the convenience for you. Let's jump in.
Advertisement – Read on below
1. Using file transfer software
If you are familiar with apps such as Xender on your phone, this is a fairly similar method. All you need to do is download the file transfer software and install it on both computers. Software like Ship anywhere Share itare pretty good options for this method.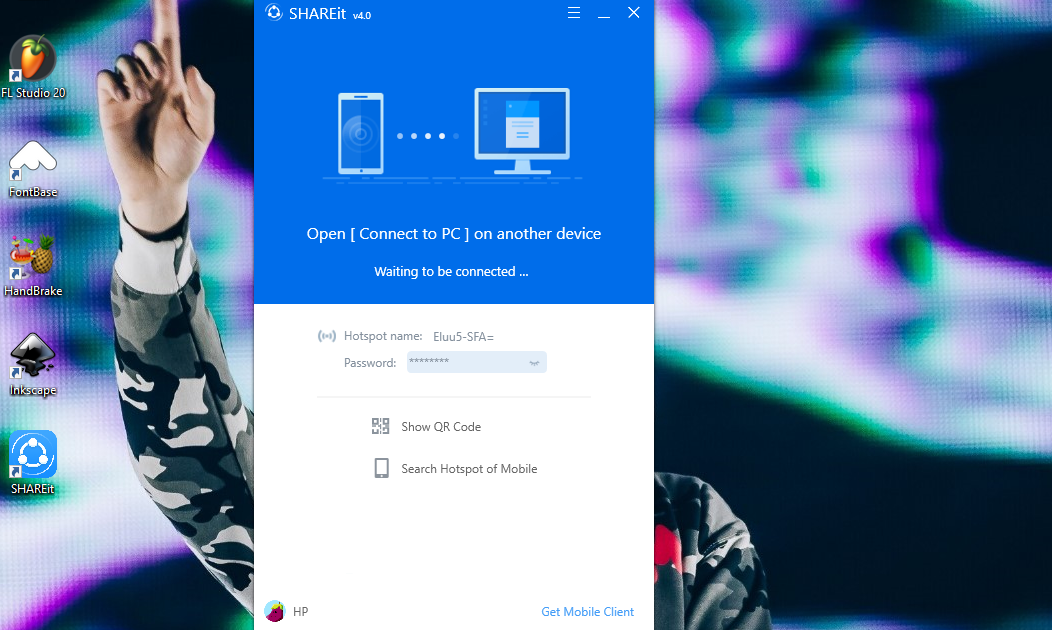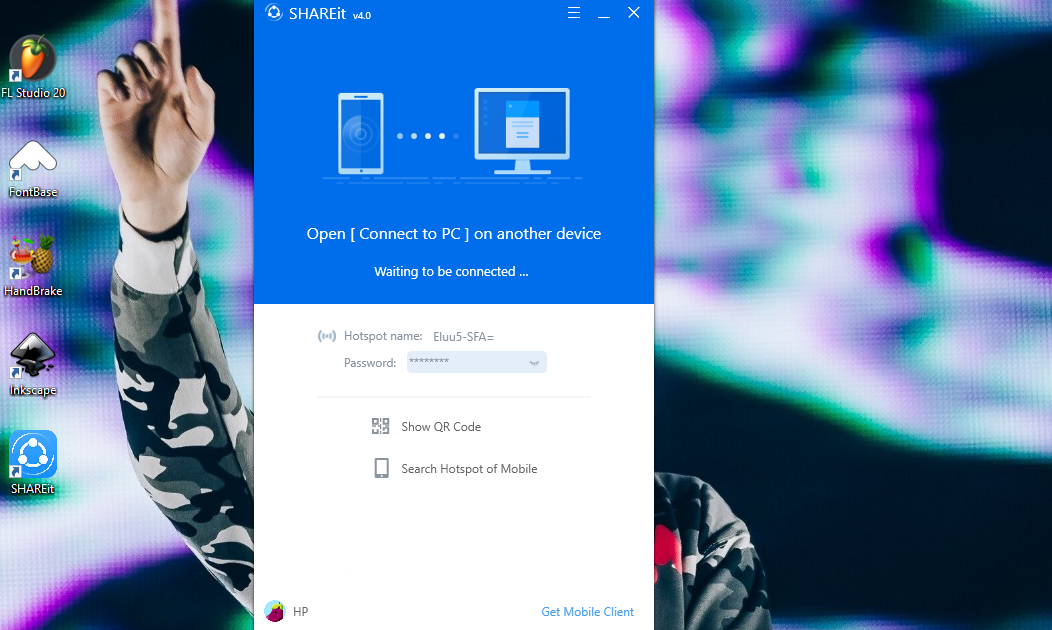 Install and run the software on both computers. You must connect both computers via a hotspot or you will be asked to scan a QR code or enter a password. After the computers are connected, follow the instructions and select the option to send a file on your source computer. Choose to receive the file on the receiving computer and your files will be transferred.
2. Sharing nearby
Microsoft has an easier way to share files over a network. This method is called Sharing nearbyYou need to enable the feature on both computers and you are good to go. Follow the steps below to enable Nearby Sharing on your Windows computer.
Go to Settings and then select System.
Choose Shared experiences.
Scroll down until you find Sharing nearby and then turn it on.
Set the dropdown below it to Everyone nearby.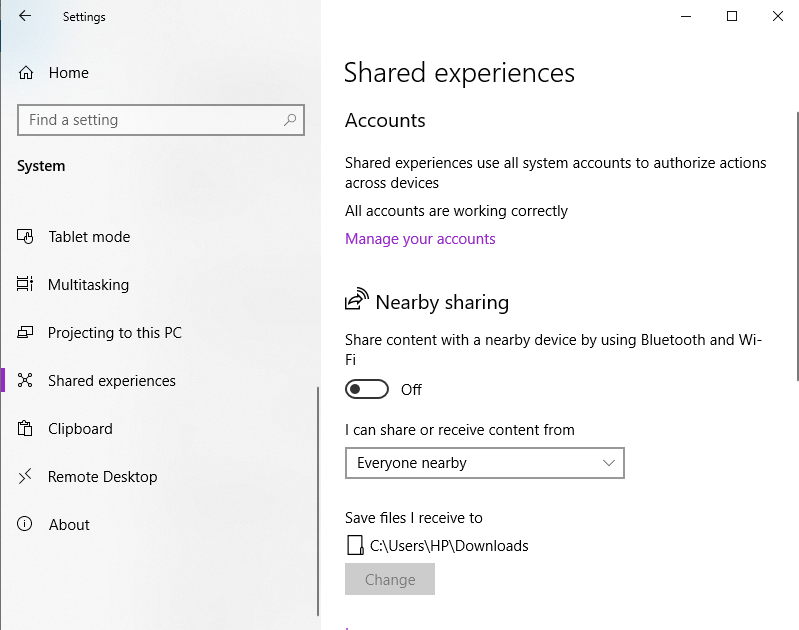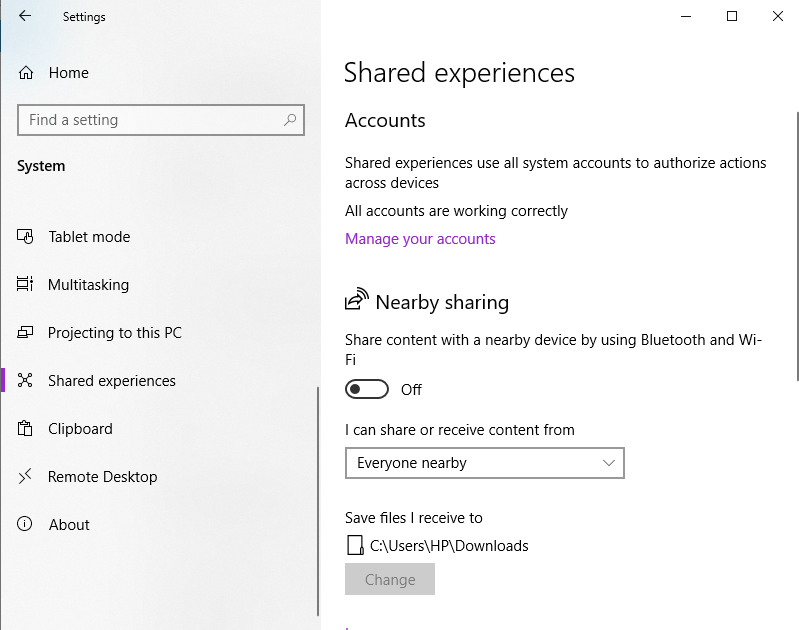 Once this is done, open your file explorer, right-click on the file you want to share, select Share and follow the prompts.
3. Transfer cable
This is yet another easy, fast and very efficient way to share files between two computers. Buy one USB to USB transfer cable and connect the two computers via the USB ports. Select the files and folders, right click and share them via the transfer cable to move from one computer to another.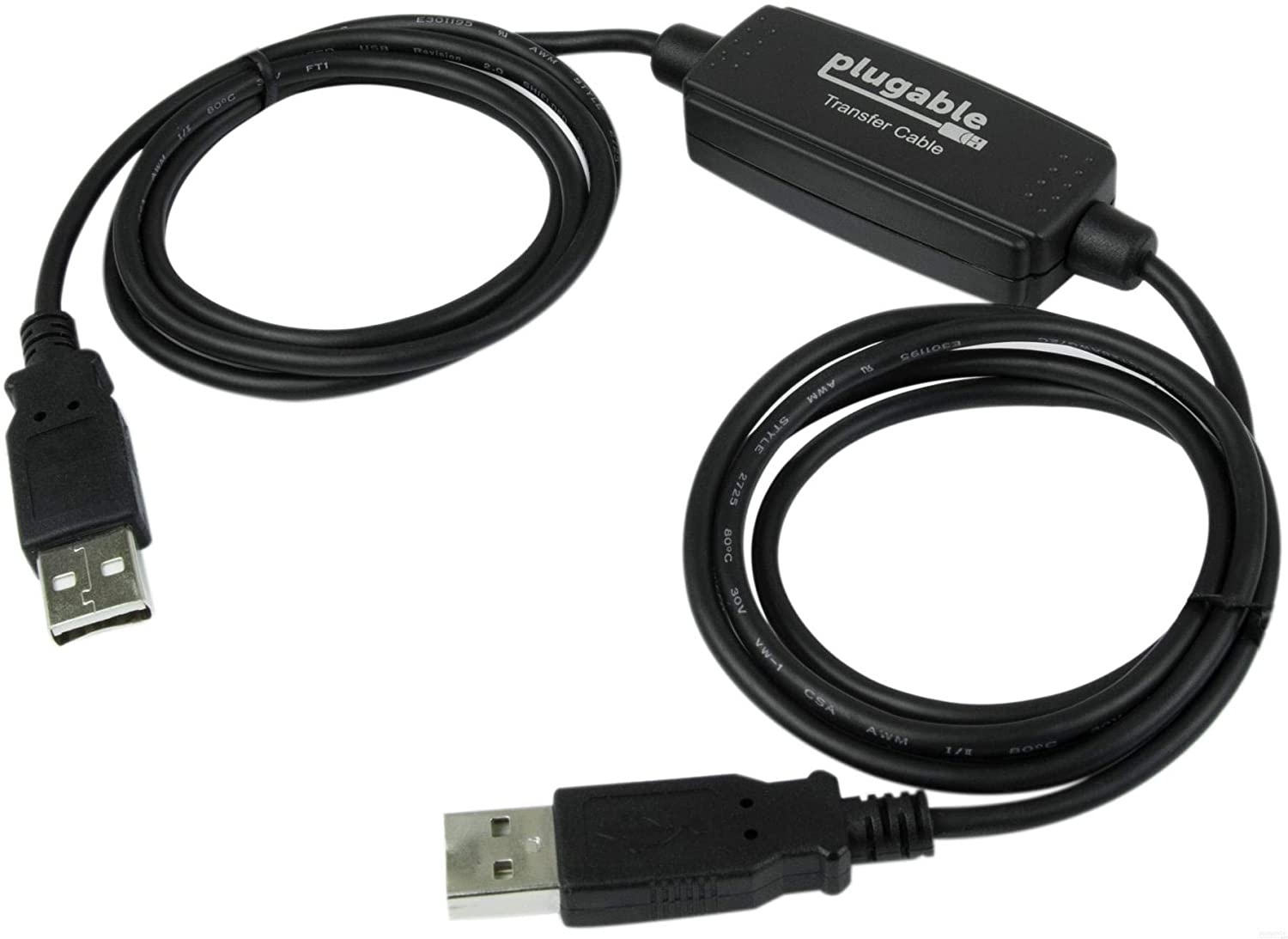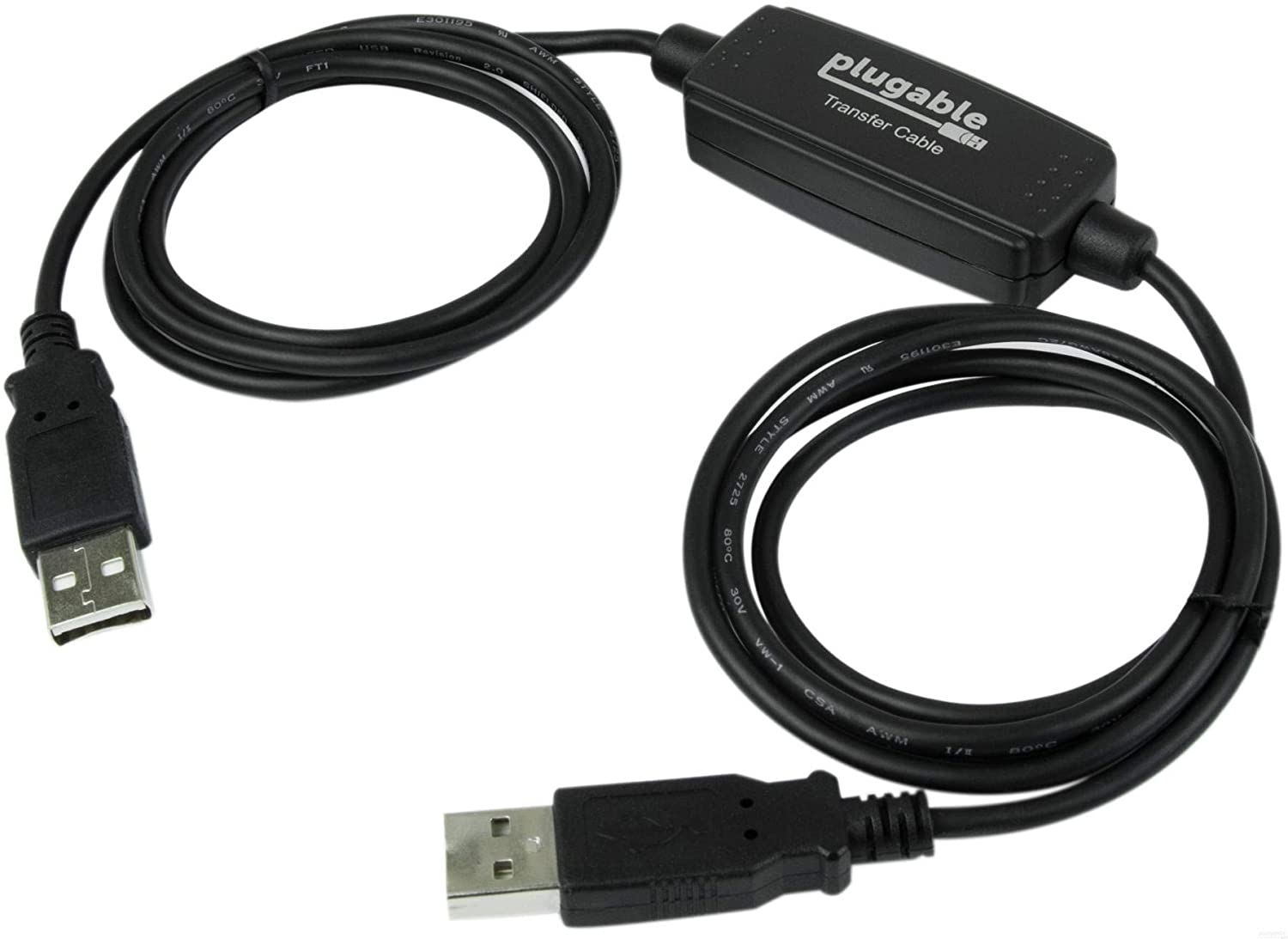 4. Via the Cloud
With this method, you don't need drives, cables or other hardware. It is even more suitable if you want to back up your files to the cloud. You can get a few gigabytes of online storage from Google Drive or Dropbox, or greater capacity with a paid plan.
Create a folder in the cloud and add the files you want to share. You can now log in to the cloud on another computer, sync the files and then copy them to the other computer. If you are sharing with someone else, just share the link to the folder and they will receive the files.
---
Related article: How to use Telegram to transfer files from your phone to your computer
---
5. Using a Local Area Network
If you are a bit familiar with computer networks, you may choose to use it Local Area Network (LAN)With this method, you can share data through the shared folders. First of all, you need to connect the computers to the LAN with a LAN cable. You can also share resources such as printers and scanners over this network.
Start searching for the file you want to share. Right-click and select 'Grant access to'> 'Specific people'. Select a user or group by adding the username you want to share. If you are open to all users, you must add "Everyone" to this user. Adjust the authorization level as desired. Click the "Share" button to enable network discovery and sharing in the dialog box.
On the other computer, open the File Explorer from the taskbar or Start menu. Select This PC and then select "Map Network Drive". Select a drive letter from the list of drives. Type the path of the folder or computer, or select "Browse" to locate the folder or computer. Then select "Finish".
6. Use external storage media
I guess I wouldn't be wrong if I said this is everyone's most preferred method. Buy a USB stick or external hard drive, insert it into a computer, copy the data and eject it. Insert the same disc in the other computer, paste the data and eject it. Easy.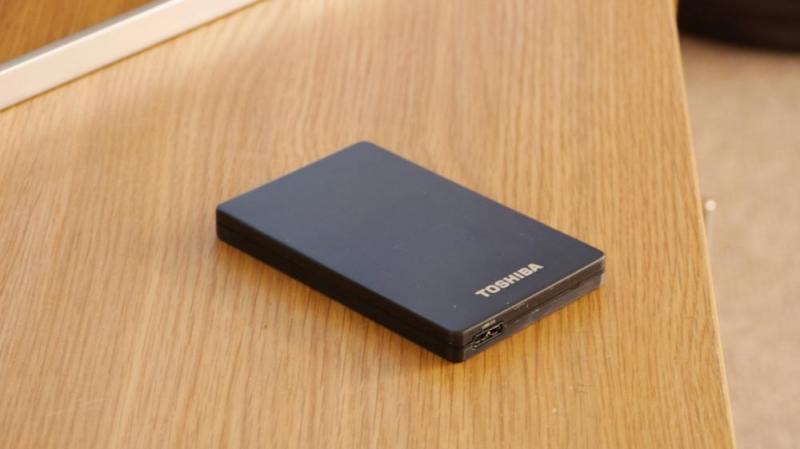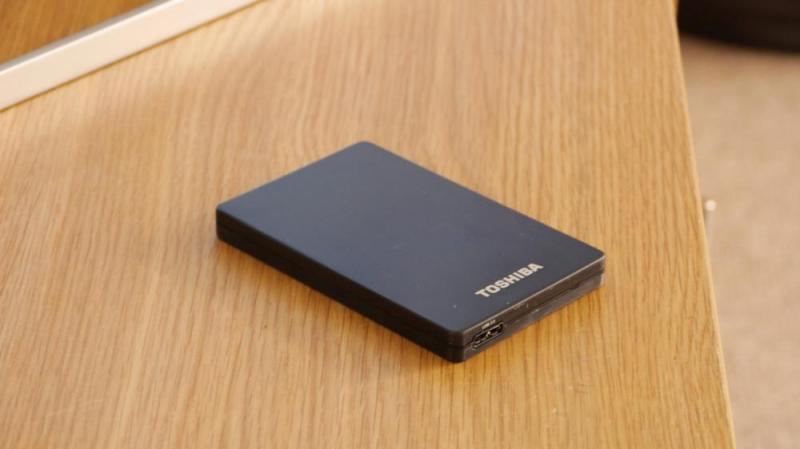 7. Connect the hard drive or SSD manually
This can come in handy when transferring files from your old computer to a new one. Hard disks and Solid State Drives use standard SATA cables to connect to the motherboard. Connect your old hard drive to the SATA or eSATA port (external SATA). The operating system will recognize it as a new disk. Then start transferring to the hard drive of your new computer. If your computer does not have an additional SATA port, you can use a SATA to USB adapter to manually connect your HDD or SSD.
What method do you normally use to transfer files and folders between two computers? What do you like and dislike about that method? Share your thoughts with us in the comments section below.
Related