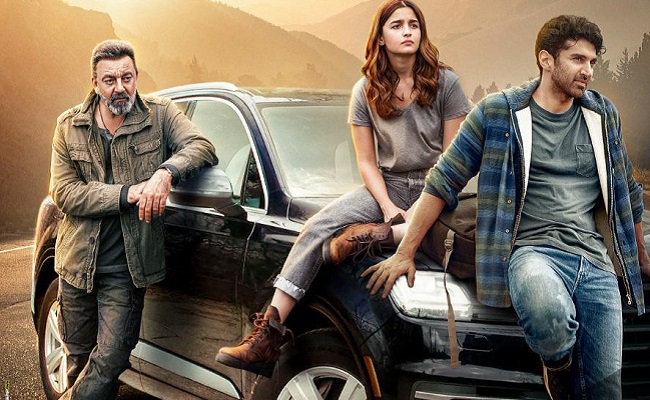 Movie: Sadak 2
Rating: 1/5
Cast: Alia Bhatt, Sanjay Dutt, Aditya Roy Kapur, Pooja Bhatt, Makrand Deshpande etc.
Director: Mahesh Bhatti
OTT platform: Disney Hotstar
Sadak 2 is one of the most talked about movies on social media, not because of its content, but because of the negativity that surrounds it. The trailer has been awarded the second most disapproved trailer in the world. Aside from this negativity from the anti-nepotism gang, the film is a sequel to the 90s super hit movie 'Sadak' starring Sanjay Dutt, Pooja Bhatt. Mahesh Bhatt, who directed the original, also helmed the sequel. Let's take a look at the film's merits and shortcomings.
Story:
Aarya Desai (Alia Bhatt) runs away from a fake baba Gyan Prakash (Makarand Deshpande).
She meets a driver named Ravi Kishore (Sanjay Dutt) in a psychiatric ward in treatment. He lost his wife and he has suicidal tendencies.
She hires him to take her to a distant place so that she can leave the asylum to expose Gyaan Prakash.
Her friend Vishal Thakur (Aditya Roy Kapur) is also on their road trip. Have they reached the destination according to their plan? What happens is the rest of the story.
Actors and technicians:
Sanjay Dutt is the film's only attraction. His on-screen presence and acting keep audiences entertained for at least some time.
Alia tried her best, but she couldn't do much to take the poorly written scenes and boring narratives to the next level.
Aditya Roy Kapur is totally wasted. Makrand Deshpande, Jsshu Sen Gupta, Gulshan Grover lived up to their roles.
The story is clichéd and moreover the film moves at a snail's pace that is unbearable. Music didn't add much or elevate things.
Apart from the cinematography, other departments could not deliver a decent quality.
More points:
Sanjay Dutt
Cons:
Cliché story
Outdated narration
Music
Analysis:
Mental illness, death, suicide, what not? All negative themes are present in the movie. Ravi has suicidal tendencies when he lost his loving wife. He is unable to get out of the grief.
Aarya is on a mission to uncover the truth behind the fake baba Gyaan Prakash. He's constantly trying to kill Aarya Desai.
Vishal Thakur, Aarya's friend who comes for the ride. Somehow all the characters look gloomy and don't connect with the audience.
Even the performance did not generate much interest, as the audience feels that they are now watching a three-decade-old film. Mahesh Bhatt appears to have directed the movie in 90s format.
Plus, the editing references from the original movie 'Sadak' never let you get in touch with the latest movie. It continues to remember the original movie.
Briefly: Fasak!
Click here for the latest Direct-to-OTT releases (list of daily updates)
Filmy One (FilmyOne.com) – Exclusive Entertainment Site