Otheride Picnic Release Date, New Preview Video, Plot, Cast & Where to Watch ?: The official website of the upcoming anime has just released a new video featuring the opening song of the anime. Otherside Picnic is based on a yuri light novel series of the same name written by Iori Miyazawa. The manga is loved by the fans for the taste of horror it has. But the Otherside Picnic's main genre is Yuri. Hayakawa Publishing has released four volumes since 2017. A manga adaptation by Eita Mizuno came out in 2018. Let's take a look at all the new information we have about the anime.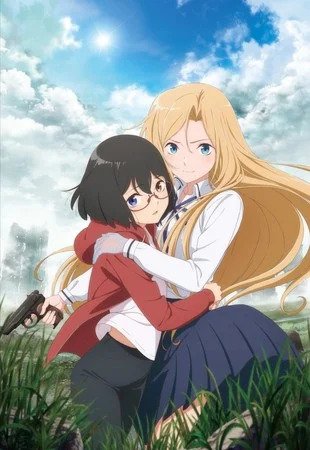 Otheride Picnic area
You can read the synopsis on the anime's official site. The story revolves around a girl named Sorawo Kamikoshi. She navigates through a place she calls Otherside. She is rescued by Toriko Nishina when she was paralyzed by an unknown creature. They both go back to Japan, to Ōmiya City, Saitama. Both became good friends and now they must explore and survive this unknown world, where real ghost stories and dangerous creatures like Kunekune exist. They will have to survive all this for research purposes as well as for profit.
If you like science fiction and yuri you will love it for sure. And when we talk about horror, it really depends on how the creators will tweak it. Because if the creators can tweak the novel quite well, you will have a good horror context in the anime. So it could be a hit with horror fans, but we'll have to wait for anime to find out.
Otheride Picnic release date
The anime will be released on January 4, 2021. There is less than a week left before the anime premieres and every fan is excited about it.
Yumiri Hanamori will play Sarao Kamikoshi, and Ai Kayano will be Torko Nishina. More cast members will be announced on Saturday and we'll update you as soon as anything is revealed.
Otherside Picnic Preview
The new preview was streamed on Tuesday with the opening song of the anime "Minikui Ikimono" (Ugly Creatures). The song is sung by CHICO with HoneyWorks. Miki Sato will perform the final theme song whose title has not yet been announced. The 30 second trailer also showed us a glimpse of the anime and what to expect from it.
Otheride Picnic Where to watch?
The anime will premiere on all major broadcast channels in Japan. Funimation will stream the anime while it airs in Japan. At the moment there are no other sources available to watch the anime. But it may be available on Crunchyroll soon. Netflix also has the fashion to adopt this type of anime, so we'll see. We ask that you only use legal and legitimate sources to view the anime as it will promote the work of its creators.
Filmy One (FilmyOne.com) – Exclusive Entertainment Site