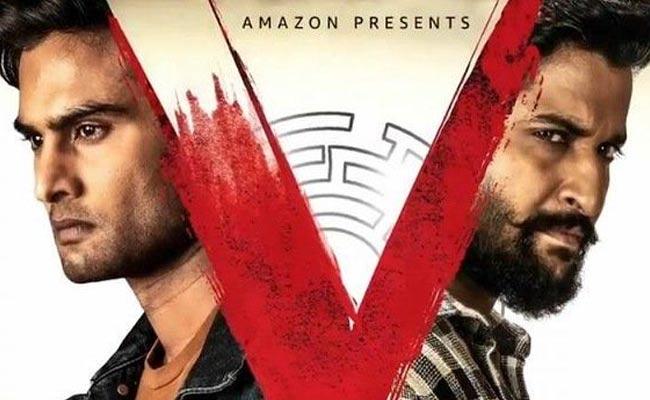 Movie: V
Judgement: 2.5/5

Banner: Sri Venkateshwara Creations
Cast: Nani, Sudheer Babu, Nivetha Thomas, Aditi Rao, Vennela Kishore, Tanikella Bharani and others
Music: Amit Trivedic
Background Score: Thaman
Cinematography: PG is coming
Producers: Sirish, Rajun
Written and directed by Indraganit Mohana Krishna
Date of publication: September 5, 2020
Stream on: Amazon Prime
"V" is not only the 25th film in Nani's career, it is also the first film in his career to debut on an OTT platform.
While many other minor movies had already been streamed on OTT platforms, this is the first major Telugu movie starring a popular star like Nani to premiere on a digital streaming site.
Let's analyze.
Story:
DCP Aditya (Sudheer Babu) is a super agent known for his many feats. A killer (Nani) believed to be a psychopath challenges the DCP to catch him before he finishes killing four people.
The killer leaves enough clues and messages for the DCP. Meanwhile, Aditya seeks the help of his girlfriend Apoorva (Nivetha), a crime novelist, in solving the clues the killer has left behind. But is he a serial killer, and if so, what is his motive?
The rest of the story is about this point.
Performances by artists:
Although the movie starts with Sudheer Babu getting a heroic introduction as a typical mass hero, would there be any doubt that Nani is the real hero? In the role of 'killer', Nani gets the bad boy through histrionics well. But he goes overboard in many places. He's not here naturally. Still, he is the best part of this thriller, making a compelling watch in the opening sections with his performance.
Sudheer Babu stars as a super agent. He gets as much footage as Nani.
Aditi Rao and Nivetha Thomas don't have much screen time in the film and both roles are clichéd. Raja Chembrolu as his Nani's friend in the army and Vennela Kishore as Sudheer's team members are okay.
Technical excellence:
The film has rich production design and high technical values. PG Vinda's cinematography is top notch.
Thaman's background score is the best part while the songs are just okay. Editing is sharp.
Highlights:
Nani and Sudheer Babu
Background Score
Disadvantage:
Predictable Backstory
excessive violence
Weak scenario
Analysis
"V" starts off just like a serial killer movie and slowly transitions into the genre of "Aparachitudu", where Nani leaves clues after killing people with cryptic messages.
Also, the scenario runs in the same way as "Kick" (Ravi Teja vs Shaam). However, the cat-and-mouse games between Nani and Sudheer Babu are predictable.
Any layman can easily guess that Nani is not a serial killer. 45 minutes into the movie, we would know that this isn't a serial killer story, it's the tale of revenge.
Anyone who has seen enough Indian masala action movies can guess that Nani would have flashbacks to reveal the real motive. Such stories click when the main character's backstory is exciting. But 'V' fails on that front. The flashback is as predictable as a Boyapati movie.
The moment the flashback opens, the tempo drops, the film slips.
Moreover, the base story of "V" is nothing but a skinny version of Murugadoss 'Ghajini' including the Asin angle.
The so-called action sequences and shootouts may be new to a Nani starrer, but not to the public. So they don't stimulate much. The romantic part shot down both couples – Nani and Aditi, Sudheer Babu and Nivetha, is cliché to the core.
To be fair, "V" is off to a good start and continues to be interesting thanks to Nani's acting. Director Indraganti should have focused on the last part of the story. He has also used Telugu film references such as K Raghavendra Rao, Boyapati and other filmmaking styles to create humor which is fine but the investigative scenes and the directions are so formal.
All in all, Nani's 25th film lacks uniqueness. It is a regular tale of revenge. The title "V" stands for Nani's name in the movie, but it's about revenge.
Briefly: 'Very normal'
Filmy One (FilmyOne.com) – Exclusive Entertainment Site