Marvel's What If…? | Watch full episodes online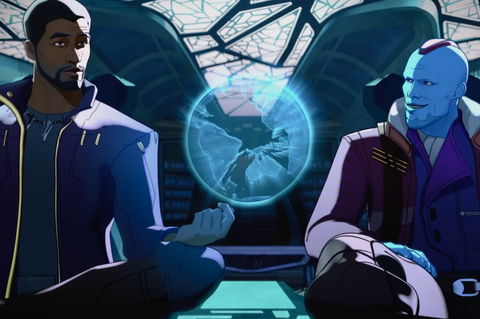 Marvel's latest addition to their vast catalog of shows and movies is What if…?, a brand new animated series now premiering on Disney+.
What if…? is based on the Marvel Comics anthology of the same name, a series of issues that put established heroes in completely unexpected and unique situations, while answering questions that fans may have curiously considered over the years.
The show appears to be a huge love letter to Marvel fans, with many big-name MCU favorites returning to voice their animated counterparts: Chris Hemsworth and Tom Hiddleston as Thor and Loki, Josh Brolin as Thanos, Hayley Atwell as Captain Carter, Karen Gillan as Nebula, Mark Ruffalo as Hulk, Benedict Cumberbatch as Doctor Strange, Samuel L Jackson as Nick Fury and many, many more, including the late Chadwick Boseman as T'Challa giving his final MCU appearance.
While the exact plot details of some episodes have been kept secret to avoid spoilers and surprises, we know what some of the stories will focus on – we'll see what happens when Peggy Carter takes Captain America's super soldier serum in the first episode, and what happens next. when Ravagers member Yondu (Michael Rooker) picks up T'Challa instead of Peter Quill in another.
We will also see Black PantherMichael B Jordan reprises his role as Killmonger, where we'll see what happens when he comes to the rescue of Tony Stark during events in the 2008 Iron Man movie. Other topics include Vision collecting all the infinity stones and a look at Marvel Zombies from the comics.
While these adventures are technically canon to the MCU, they each take part in a different part of the multiverse where familiar characters have completely different backstories. They don't affect the main MCU, but offer a fun and different spin on the characters from the Marvel world. west world and the batter star Jeffrey Wright will debut as the Watcher, who will act as the narrator for the episodes.
WATCH THE WHAT IF FROM MARVEL…?
Marvel's What if…? is now available on Disney+; the first episode premiered on Wednesday, August 11, with new episodes added weekly. There will be a total of 10 episodes, with the last episode dropping on October 13.
If you're not a Disney+ subscriber yet, you can sign up for
This content is created and maintained by a third party and imported to this page to help users provide their email addresses. You may find more information about this and similar content
Filmy One (FilmyOne.com) – Exclusive Entertainment Site