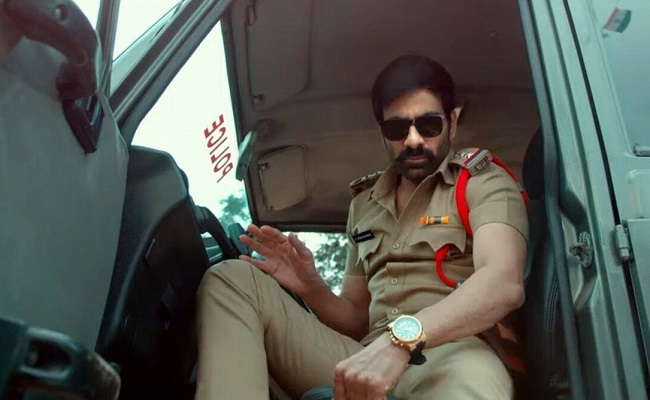 Film: Krack
Rating: 2.75 / 5

Banner: Saraswathi Films Division
Cast: Ravi Teja, Shruti Haasan, Samuthirakani, Varalaxmi Sarath Kumar, Sudhakar Komakula, Vamsee Chaganti and others
Music: Thaman S
Cinematography: GK Vishnu
Editor: Naveen Nooli
Art: AS Prakash
Producers: B Madhu
Written and direction: Gopichand Malineni
Publication date: January 9, 2020
Ravi Teja's "Krack" is the first 2021 release in theaters. Despite Ravi Teja's recent poor track record at the box office, the film has created buzz thanks to slick promos and aggressive promotions.
Let's see if the movie made an impression or not.
Story:
Shankar (Ravi Teja) is an upright police officer. He lives a happy life with his wife Kalyani (Shruti Haasan) and a child. Shankar gets annoyed when someone brags about their 'background' and beats them to a pulp.
When one of his colleagues is brutally murdered in Ongole, Shankar's investigation leads to local gang leader Kathari Krishna (Samuthirakani) and his lover Jayamma (Varalakshmi Sarath Kumar).
The main story is the showdown between Kathari Krishna and Shankar.
Performances by artists:
Ravi Teja is in his element here. Playing the role of a grumpy cop, who is upright in his profession, comes easy for him because he has played such roles before. After a long time, Ravi Teja has also shown his signature 'energy' in ferocious sequences.
Shruti Haasan doesn't have much to do in this movie, but plays her part well. As for the villains, both Varalaxmi Sarathkumar and Samuthirakani are stealing the show with their fierce acting skills. But it is Samuthirakani who gets the meatier roll and length.
Sudhakar Komakula and Vamsee Chaganti as police officers make their presence felt.
Technical excellence:
At a time when glossy packaging has become the main focus, the director has obtained the best output from cameraman GK Vishnu. He has given the masala sequences a rich look.
Two fight scenes in the background of Ongole are stylishly filmed.
Burra Sai Madhav has written dialogues in a style necessary for a mass movie. Thaman's music is a mixed bag.
Highlights:
Ravi Teja's acting style
Samuthirakani versus Ravi Teja's scenes
Cinematography
Downside:
Predictable storyline
First half
Excessive violence
Boring romantic thread
Analysis
Known for his mass-oriented entertainers, director Gopichand Malineni has written a story that is fairly predictable. However, he has placed more importance on the story.
The basic storyline revolves around a police officer trying to pin down a local leader, which has been featured in countless films. But to repackage it in a shiny way, the director told the story with three elements: a mango, a rupee note, and a metal nail.
Each of these elements has changed the lives of three villains when they meet the main character. How? This arouses interest.
Thus, the story unfolds with a terrorist telling his story and how he was put in prison by Shankar (Ravi Teja) with a minor mistake (Rs 50 note).
Later, another little wanton gets into trouble, and he seeks the help of Kathari Krishna (Samuthirakani) when he then tells his fracas with the police officer and how a small nail brought down his empire. Had it not been for this packaging, the story would have been a clear and formal fight between villain and hero.
Gopichand's screenplay and packaging have added some interest to this otherwise normal story with this element. Although he has piqued our interest with it, he does not come out with the banal sequences.
The middle section gets us involved in the proceedings with some stunningly shot fight sequences like the bus stop fight and beach action scenes. But the movie slips back into routine mode after a while. In addition, there are too many fights.
Shruti Haasan and Ravi Teja's romantic thread is also lousy.
Gopichand's goal is to entertain the audience of the B and C center, and its packaging is all about action stunts, high-pitched dialogue and stylish taking, rather than logic and novelty.
The Ongole backdrop and the 'Kathari Krishna' sequences may have added something new, but the villain turns into a wimp in minutes, diminishing any build-up. Shruti's character twist also looks forced.
It's a full-blown masala entertainer, and the writer-director Gopichand Malineni sticks to this template. 'Krack' has a good dose of Ravi Teja's swag, but with an ample routine. It's a regular masala movie.
Bottom-line: Miss Biryani
Click here for the latest Direct-to-OTT releases (list of daily updates)
Filmy One (FilmyOne.com) – Exclusive Entertainment Site