Cook with Comali 2 delayed: The ingenious cooking competition on Star Vijay Television is one of the latest most popular shows among the Tamil audience. The show is one of the reasons for the rise of digital subscribers to Disney + Hotstar. But VIP members have regularly been concerned about the delay of Cook with Comali 2 on Saturday and Sunday in recent weeks.
The show's fan base has grown than before during its repeat broadcast during a pandemic. Most viewers see this show as a stress reliever on the weekend evenings on television. The hardcore fans are there, they all spend some money to watch the show before television time. But the service of the Diney + Hotstar is not as good as the viewers expect.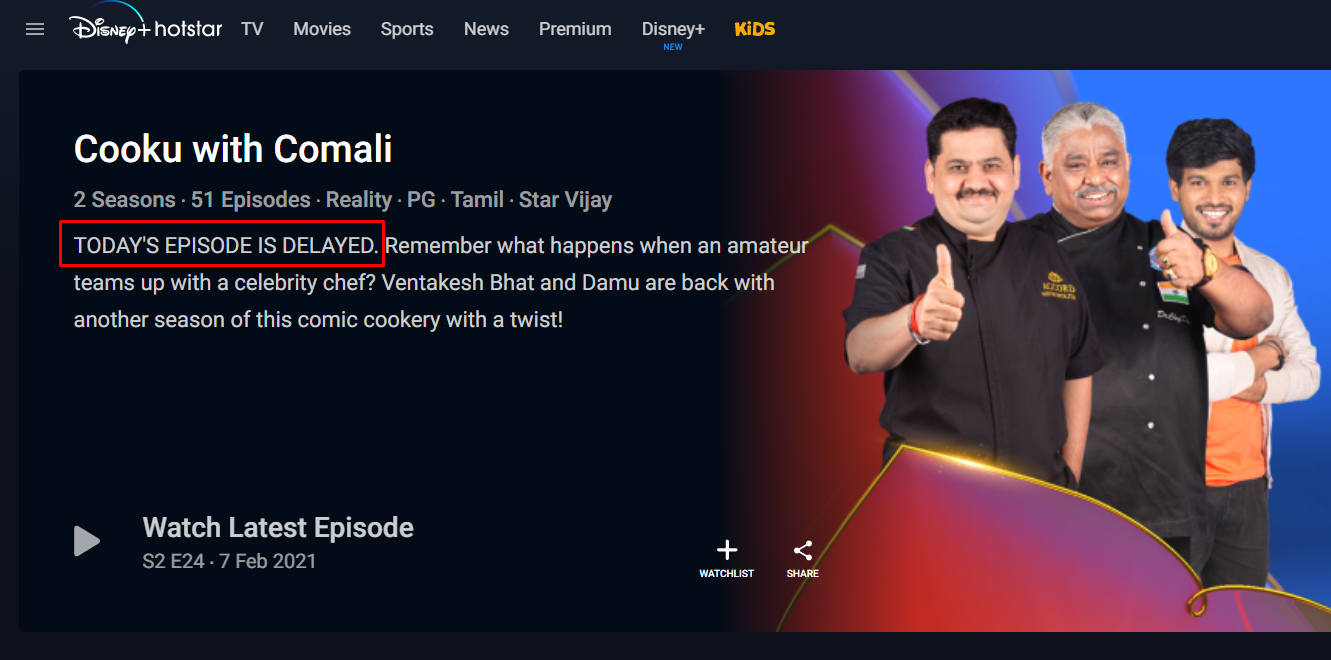 This is the third time in the past two months that the show has been postponed to watch online. View the reactions of fans on Twitter here;
Delayed again 😒# CookWithComali2 @BuienRadarNL @DisneyplusHSVIP @hotstar_helps
Please do the necessary.

– முஹம்மது அலி 🇮🇳 (@Mohammedalioffl) February 13, 2021
@DisneyplusHSVIP @BuienRadarNL @BuienRadarNL # CookWithComali2 where is delivery today ..?
Then why did I post a VIP membership ..!
Pls clarify .. i want my VIP membership refund ..!

– Vasanth_champ (@ vasanth_champ09) February 13, 2021
Epovum leaves ah #CookuWithComali upload panrathey ungaluku velaiya pochu #Hotstar # CookWithComali2#DisneyPlusHotstarID #DisneyHotstar@vijfzintuigen pic.twitter.com/rBUDd5kCSt

– jeeRa (@Babyofsea) February 13, 2021
@hotstar_helps refund the money for my VIP subscription. It's a complete waste of money and a waste of time … but you promised that I will watch shows on VIP before the telly. But things happen every week, you have an answer for not uploading shows.# CookWithComali2 #Othershows

– OlívèR🍁QúeèN (@Nishavaroffl) February 13, 2021
Like @Nishavaroffl, Cook with Comali 2 fans as well as Disney + Hotstar VIP members are asking for a refund of the subscription fee. The tweeter handle wrote, "It's a complete waste of money and a waste of time. But you promised I'll watch VIP shows for broadcast television. But things happen every week, you have the solution for not uploading shows. "
I hope they will upload the show on time in the coming weeks.
Stay tuned for more latest updates.