Fast forward to the beginning of Baptiste series two, and Sara has been dead for four months. How she died is one of the mysteries of the new series, which is why Julien feels so guilty about her death. We meet Julien four months after the loss of his daughter, when he is separated from his wife Celia and moves into a dingy hotel. The background photo on his phone is of Sara and his granddaughter. Julien refuses to take Celia's calls and conducts his investigation with an unusual lack of emotional involvement. We see him chasing a young runaway, who says he will not return to his parents. Baptiste walks away indifferently and tells the boy to do what he wants, and that everyone will make their own mistakes, but at least now his parents will know that their son is still alive. Did Julien make a mistake that led to Sara's death? Or was the fault with her?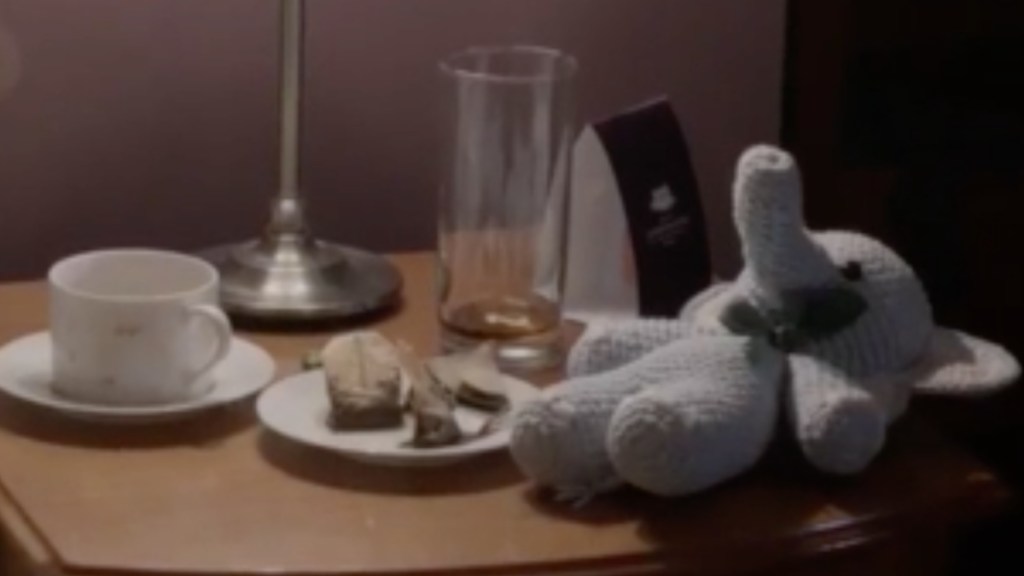 In his hotel room, Julien watches a TV press conference with the British Ambassador to Hungary, Emma Chambers (Fiona Shaw), whose family is missing. On hearing her call to witnesses for information, Julien glimpses a knitted blue toy elephant on his bedside table at the hotel. When he looks a second later, he is no longer there.
Later, after traveling to Hungary and promising to help Emma Chambers find out what happened to her missing sons, Julien sees the toy for the second time. In the hotel bathroom it's there one minute and gone the next. The blue elephant clearly symbolizes the loss of Baptiste's daughter, and the grief and guilt he experiences. Maybe it was Sara's childhood toy, maybe it once belonged to his granddaughter, whose whereabouts – along with her father Ron's – are currently unknown. Maybe it played a part in Sara's death, or is it just a reminder of her loss.
Eighteen months after Sara's death, and fourteen months after Baptiste took over the Chambers family business, he is in a terrible condition. Untidy, bearded, drunk and disorderly, he is picked up by two police officers as he bangs on the door of a French mansion, yelling that the resident is a coward and that they must come out. Who's in that house? Is it someone associated with the Chambers case, or perhaps Ron, his granddaughter's father? Will Julien be denied access to his granddaughter after Sara's death?
What killed Sarah? The most obvious guess would be a heroin relapse, perhaps triggered by the shock of discovering she had a half-brother. Baptiste series one introduced the Dutch policeman Niels, son of the Amsterdam police chief Martha Horchner, who had hidden the birth of Niels from his father Julien. Niels was exposed as corrupt and worked for a people smuggling gang. Now he is in prison for corruption and for accidentally shooting his mother. When Celia meets Julien after spending a night in jail, she berates him for his "stubborn Gallic bullshit" and for quietly torturing "what happened to [their] daughter", then gives him divorce papers, which he signs.
Not long ago Baptiste had a wife, daughter, granddaughter and a new son. Now he has nothing but a ton of guilt and the persistent, torturous image of a toy elephant to represent his loss. As he told Emma Chambers (who, as… Baptiste protagonist Edward from the second series, also lost a daughter), he carries Sara's death with him. If he manages to help Emma find her missing son, can that ease that burden?
Filmy One (FilmyOne.com) – Exclusive Entertainment Site