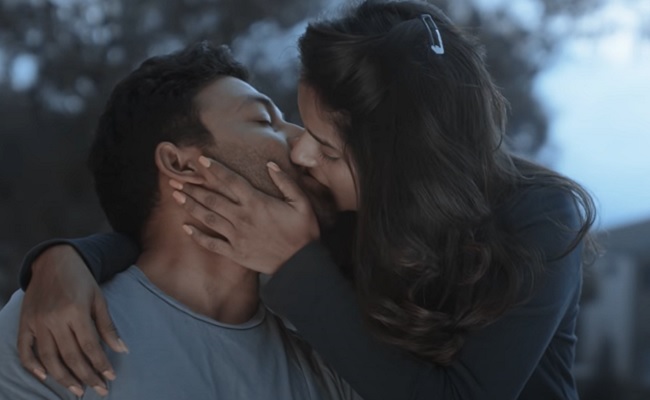 Movie: Amrutaramam
Rating: 1.5/5

Banner: Padmaja Movies
Cast: Ram Mittakanti, Amita Ranganath, Srijith Gangadharin, JD Cherukuru etc
Edit: Karthik Srinivas
Music: NS Prasu
Camera: Santhosh Sanamoni
Producer: SN Reddy
Story, Screenplay, Dialogues, Direction: Surender Kontaddic
Publication date: April 29, 2020 (ZEE5 INDIA)
It's been over a month since the cinemas closed. Also, there is no clarity about when they will open. There are also mixed opinions about the patronage of the public to theaters as before.
Against this backdrop, many of the small producers are planning to release their films directly on OTT. Only the large producers with financial strength can withstand the disaster.
The first Telugu movie to be released directly on OTT in this lockdown time is Amrutaramam. Let's take a look at the ins and outs of it.
The director has made an effort to tell a compelling love story. Love isn't living for each other, it's all about living in each other. This is the point the director wanted to get across. But it takes a lot of practice to make the audience travel with such a story. If it doesn't, no one will care what happens with such a pair on the screen.
What will a girl do for her love interest? To what extent can she go to express her love? This is portrayed in this film, but why the girl loves the main character is not emotionally established. On the contrary, it ended up being a silly thing.
The hero in this film continues to tell a meaningless philosophy and behaves differently. The audience does not see an attractive feature in the hero to connect with the heroine's love for him.
Why Amruta (Amitha) loves Ram (Ram) is a million dollar question. He is not someone with real qualities. She says it's okay for him if he doesn't have a job. She says sorry to him, even though the fault is on his side. She makes noise when he's talking to someone else. She offers him the drink as he likes it. Why would she love him so unconditionally? Nobody knows.
Well, we can expect that Ram will accept Amruta's love. But he won't. He asks her to get away from his life. Why would he do that when she takes care of him like that? The film keeps the audience confused with erratic characterizations.
Holding aside this emotionless, no-feel-good trail of love, a person moves on the roads of Sydney with white dhotis, gold jewelry and knives in hand. He gives loans to Telugu youth who keep their passports with them. How the makers dared to include songs like this in the Australian backdrop. All the supporting actors in the Australian episode seem to be the local non-actors as they provided dialogues with empty expressions.
It is better to talk about the protagonist Aries as little as possible. Amitha Ranganath was able to convey the emotions with her expressions. The credit should also be given to her dubbing artist. Nothing to discuss about technical aspects. Chinmayi's song sounds good in the opening lines.
The director tried to create an emotional love story, but that ultimately resulted in frustration. The best part about OTT is that you can watch the movie at as many intervals as possible or else easily skip it.
Briefly: Amrutha BHAARAM
Click here for the latest Direct-to-OTT releases (list updates daily)
Filmy One (FilmyOne.com) – Exclusive Entertainment Site