5 Best Sites to Download Free Movie Subtitles
Movies are a choice of almost every individual. It is even more fun when these films are seen in a different language. But we often lag behind in understanding the foreign language. This is where the subtitles come to the rescue. We have compiled a list of Download movie subtitles for free.
Why do we need subtitles?
If you're watching a movie in a new language, understanding the dialogues is a must. Subtitles are the dialogues written right on the screen in one of your preferred languages. Watching movies in a foreign language with subtitles is a great way to learn new slang words and phrases to use in your daily routine.
Subtitles are not only great for the new languages, but also for getting the correct pronunciations of certain words.
These are generally seen in English (because it is a universal language).
Many of you may be wondering how to get the subtitles for your favorite movie?
Sit back and relax!
Best sites to download movie subtitles for free
After extensive research, we have listed for you;
1. Use Open Subtitles to download free movie subtitles
At the top of our charts is opensubtitles.org.
The site claims to have over 5.5 million subtitles, which is a huge collection to check out.
Here are the reasons why this website is number 1 on our list:
The website has the largest multilingual subtitle database.
No registration required to download subtitles.
Advanced search filters.
You can search for many subtitles at the same time.
The search results are sent by e-mail.
They take future requests from users into account and act accordingly.
You can search for multilingual subtitles at the same time.
Are these not just enough reasons to be number one on the list?
2. Use Subscene to download free movie subtitles
This website has been on the market since 2005. Since then, it has served the users with the best of everything. This website is specially designed for the hearing impaired. Subscene has gained a lot of popularity lately.
The active users keep updating the subtitle database which helps for a better search. One can easily upload their subtitles on this website.
Not only does it have subtitles for movies in different languages, but it also has a great database for TV series and popular music videos.
Pro Tip: Please enable Java on your PC before downloading for hassle-free functionality.
3. YIFY Subtitles
This is yet another website where you can explore the wide range of movie subtitles in over 100 languages. It is a popular movie torrent site specializing in HD 720p, 1080p video downloads with small file sizes.
The website user interface is quite simple and useful.
Fun fact about YIFY subtitles: The website is named after a well-known piracy group. Although the website offers piracy free files for download.
How to download YIFY subtitles?
Open the YIFY subtitles website in the browser.
Type the movie name in the search bar and press Enter key.
Click on the movie poster to see the detailed page.
Scroll down the page and you can find the movie subtitles available in different languages.
Choose your preferred subtitle language and click on it to download button.
From the download page, press DOWNLOAD SUBTITLE to download the subtitles from this website.
4. Podnapisi
Unlike the website name, it serves the easiest and clearest way for English language subtitles.
In the words of the website developers: "We currently have 2,094,830 subtitles for 60,143 movies and 7,022 series in 101 languages ​​in our database of which 62,920 are made by the community, 102,330 are adapted for hearing impaired and hard of hearing (SDH) viewers.
There have been 2,080,527,858 download subtitles, 128,432 comments on subtitles, and 171,986 rates for subtitles. "
The advanced search option makes it even easier and more user-friendly to search in the extensive database of subtitles.
The best thing about this website is that they have already divided the homepage into many sections. You can browse different categories such as latest subtitles, subtitles from last 30 days, most downloaded subtitles, most commented subtitles, etc.
It makes browsing even easier for the users.
The most distinctive feature of this subtitle website is the subtitle preview, which helps you get an idea of ​​how to sync subtitles with video files, so you don't waste time adjusting.
5. Addic7ed
As the name suggests, the website is a complete package solution for all movie addicts.
Like OpenSubtitles, it is one of the subtitle sites that offer downloads for both movies and TV shows.
You have to sign up for Addic7ed to download subtitles. After signing in, you can search for movies using a search bar or scroll through a drop-down menu. New releases are prominently displayed in an RSS feed at the top of the page.
How to add subtitles with VLC?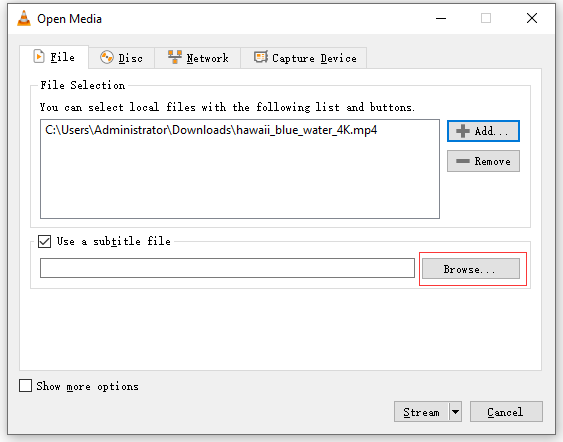 Open VLC Media Player and go to Media Flow
Click on the Add button to add the movie to add subtitles.
Check the Use a subtitle file box and press Leaves to add the prepared subtitle file.
click on Flow and press The next.Tap on Add and choose a folder where the movie will be saved and enter the file name.
Click The next Get on.
In the Stream Output window, choose the video codec you want and go to Profile Edition.
Switch to the Subtitles tab and check Subtitles and Overlay subtitles on the videoThen apply the change.
Click The next Flow to add the downloaded subtitles to the movie.
How to adjust subtitles in VLC?
In VLC, you can click the H. key to delay and the G. key to advance the subtitles 50 milliseconds with one keystroke. You can press the keys repeatedly to increase / decrease the difference.
Summary – Download free movie subtitles
Subtitles have become an integral part of the movie viewing experience, where they are needed not only for the hearing impaired, but also for users who want to learn different languages ​​with ease and finesse.
Tell us how helpful this article was to you. Don't forget to post your thoughts and suggestions in the comments below.
Don't forget to download movie subtitles for free!
Also Read: 123Movies Alternatives: 12+ Sites Like 123Movies to Watch Movies Online in 2021